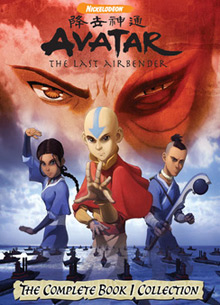 Created by:
Michael Dante DiMartino
Bryan Konietzko
Music by:
Jeremy Zuckerman
Sound Design by:
Benjamin Wynn
Television Channel:
Nickelodeon
Running Time:
24 Minutes
Original Airdates:
February 2005 to July 2008
Seasons:
Book 1: Water
Book: Earth
Book 3: Fire
Avatar: The Last Airbender
Water. Earth. Fire. Air. Only the Avatar was the master of all four elements. Only he could stop the ruthless Fire Nation from conquering the world. But when the world needed him most, he disappeared. Until now... On the South Pole, a lone Water Tribe village struggles to survive. It's here that a young Waterbender named Katara and her warrior brother Sokka rescue a strange boy named Aang from a cavernous iceberg. Not only is Aang an Airbender — a race of people no one has seen in a century — but they soon discover that Aang is also the long lost Avatar. Now it's up to Katara and Sokka to make sure Aang faces his destiny to save the tribe — and himself. Did we mention he's only 12?
Cast
Zach Tyler Eisen
as Aang
Mae Whitman
as Katara
Jack DeSena
as Sokka
Dante Basco
as Zuko
Mako
as Uncle Iroh
Jason Isaacs
as Admiral Zhao
Grey DeLisle
as Azula
Mark Hamill
as Fire Lord Ozai
Dee Bradley Baker
as Appa and Momo