It's been just over a year since
Book One: Air
of
The Legend of Korra
ended, and yet we still don't have an official release date for
Book Two: Spirits
. So I thought it'd be fun to accumulate all of the information we do have about
Book Two: Spirits
and try to figure out where we are in terms of its production and release. Where do we begin? I'm going to take a look at what's been said and given to us by
Nickelodeon
, various news publications, as well as the show creators themselves via their social networking accounts.
As
The Legend of Korra
wrapped up last June, news broke via
Entertainment Weekly
that a "second season" had been ordered. However, we were already aware of there being 14 additional episodes ordered! But what we really learned was that
Book One: Air
was considered as only
half
of the first season.
Nickelodeon
had switched to a 26 episode season format, so they didn't just want 14 more episodes to go with the original 12, they wanted an
additional
26 on top of that! However, show creators Mike and Bryan didn't want story arc's that were 26 episodes long, so they decided to split each season into 2 arcs. So what we're actually getting for
The Legend of Korra
is 4 books in total, with each season comprising of 2 books.
Now with 52 episodes in total, Mike and Bryan found that their once miniseries was now technically going to be bigger than
Avatar: The Last Airbender
. However, their approach to Korra was more personal. Mike and Bryan were the sole credited writers on
Book One: Air.
That kind of dedication and attention obviously results in a slower production timeline. Having said that, the second 14 episodes were ordered well before the finale of the first book in June, so it's safe to assume they had already begun work on them by the finale.
Without sites like
tumblr
and
twitter
, the article would more or less end here. Thankfully Mike and Bryan have been pretty engaging with fans, and quite open with many aspects of the development of
Book One: Spirits
through social media. Bryan Konietzko was the first to get sucked into the tumblr craze with his
blog
. A little bit later, Michael Dante DiMartino followed suit with his own
blog
. And that's where our next block of information is going to come from.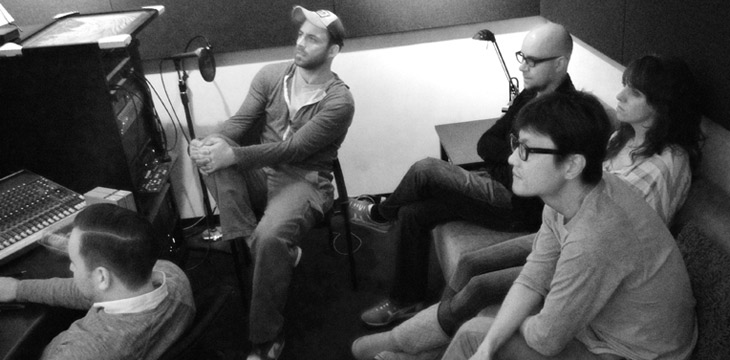 On
February 6th
of this year, Bryan Konietzko posted a picture showing the Korra creative team reviewing "take 1" footage during the episode assembly process. He describes the process as "viewing a newly animated episode from the overseas animation studio" and assessing "the state of the animation" for it. A
week later
, Bryan shared another photo. This time it's an image from the show! It's of Korra and... other stuff. Bryan captions the photo saying it's from a color correction session. This is the process of altering and enhancing the color of the image in preparation of the final master or release.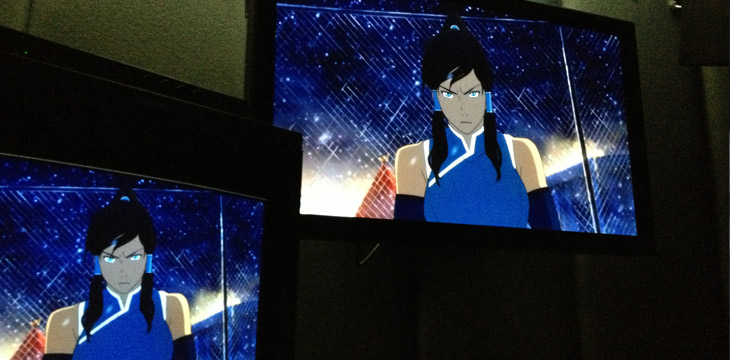 The following week
, Bryan gives us some more insight into the post-production process. This time it's of Mike during a mixing session. Audio mixes are typically one of the very last stages of post-production, but Bryan notes that this session is a mixing session taking place
before
retakes. Therefore it is fairly safe to assume episode assembly at this point in time is still in a somewhat unfinished state.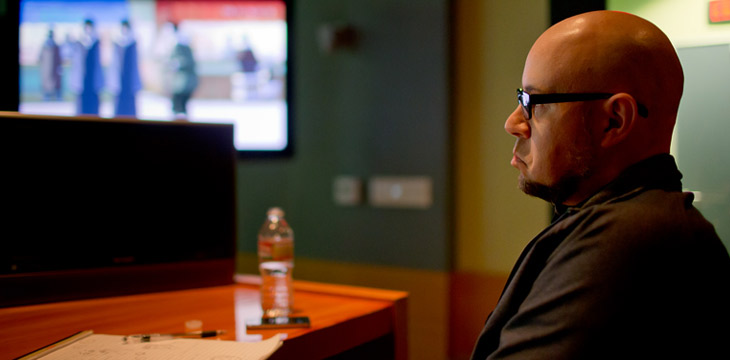 A month goes by before Bryan
posts
the next image relating to the production process of
The Legend of Korra
. It's a series of sketches done by director Ki Hyun Ryu and the storyboard department. Bryan mentions they have a much bigger in-house crew these days, with full design and storyboard departments like they used to have on
Avatar: The Last Airbender
. But what's most interesting about this post is: Bryan notes the sketches are of Ryu and the crew for
Book Three
! So now we know not only are they working on the final stages of
Book Two
, but the beginning stages of
Book Three
.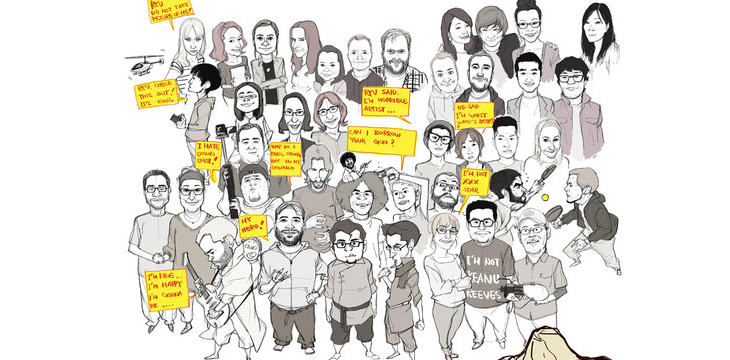 About two weeks go by when Bryan
posts
yet another picture of the color correction process. It's of Bolin and a new character Eska. Eska is a Waterbender from the Southern Water Tribe, and images of her and Bolin have popped up before this. Without speculating on plot any further, we'll focus on the production aspects of this image. Yet again we see they're working on a process commonly towards the end of production. Typically there can be two stages of color correction, or color grading, but Bryan doesn't comment further on the posted image.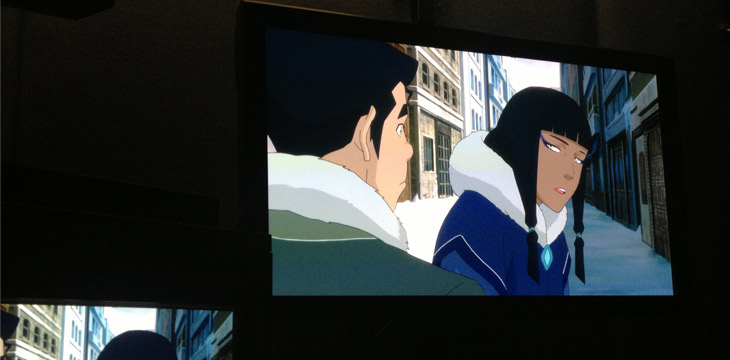 It would be nearly three months before any more images are posted, and that brings us to earlier this month when Bryan
posted
yet another photo from color correction. It was an image from
Book Two
again, but this time it's of an animal creature that appears to be a close relative of Momo. Mike reblogged the picture
noting
that more episodes are being finished slowly but surely. Then just last week Bryan
put up
a new image of from sound mixing. The image shows Avatar Korra and another Southern Water Tribe member named Varrick. No further captions were made.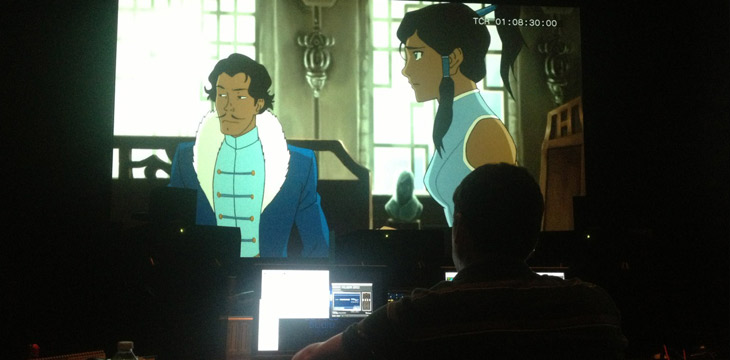 So that brings us up to the present, where just this evening, Bryan Konietzko made his latest
tumblr update
. In it he shared a few images of yet another review session of newly animated "take 1" footage. The screencap he showed featured Tenzin, Bumi, and Kya. He claims the footage from the episode was especially good. The co-creator then thanked the fans and their patience in the post, and reminded us all that
Book Two: Spirits
is coming.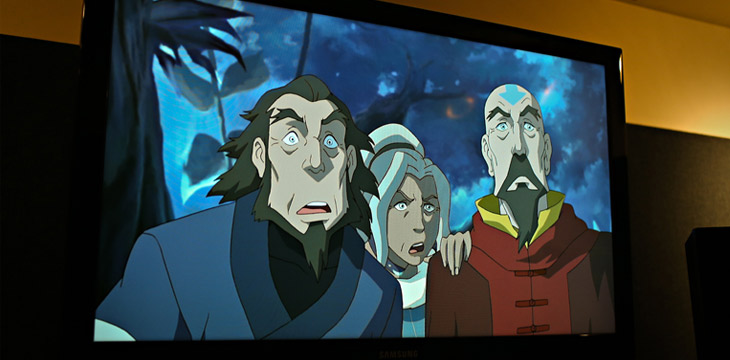 Not to mention that yesterday afternon the San Diego Comic-Con panel was announced. Mike and Bryan will be in attendance, as will other important members of the Korra team. With all we've seen throughout the last half year, I have a feeling that
Book Two: Spirits
is pretty close to being final. I would imagine that a release date will be announced at Comic-Con, and I wouldn't be surprised if it's in the second half of 2013. Going from what we've seen in the past, the only book to start airing in the fall has been
Book Three: Fire
of
Avatar: The Last Airbender
, which debuted on September 21, 2007. A telling clue perhaps?
Mind you that Fall 2013, and more specifically September 2013 is just what I am predicting based off what we've been shown. However, if
Book Three: Spirits
doesn't debut this year, the gap between books is going to be an unreasonably large one. Large enough that Nickelodeon should consider how that affects the fans and viewership levels in general. But I have confidence in Nickelodeon and Team Korra in their ability to get this series rolling. More importantly, I have confidence in Mike and Bryan to create quality material that is well worth the wait.
So what do you think?