A Few Sneak Peeks at New Characters from 'The Legend of Korra: Enhanced Experience'
Posted to Korra News on July 01, 2013 2:35 PM by
NightBender

Last week
we told you about about Nickelodeon's new interactive book titled
The Legend of Korra: Enhanced Experience
. The free digital book will be available starting tomorrow July 2nd via
iTunes
and the
iBook
store, but today
MTV Geek
and
Comics Alliance
have exclusive looks at new characters from
Book 2: Spirits
.
On the left is Tonraq: a general in the Northern Water Tribe and Korra's father. He's hotheaded, much like Korra, and he's determined to live a simple life. On the right is Tonraq's younger brother Unalaq: the current Chief. He has a strong connection with the Spirit World. Fate pits these two brothers against each other in
Book 2: Spirits
.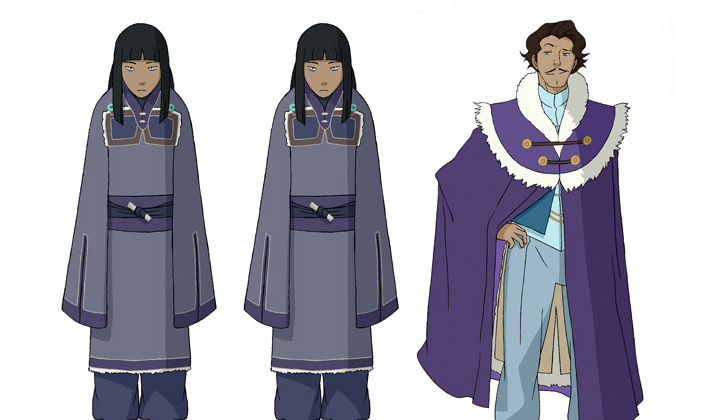 Above we have Korra's cousins Densa and Eska. They're both Waterbenders, and they work together in very unique ways. To the right is Varrick: a billionaire shipping magnate from the Southern Water Tribe. He has humble beginnings, but there are rumors that he deals with underworld characters and gangsters if he thinks it will turn a profit.
Head over to
MTV Geek
and
Comics Alliance
to get more exclusive details on these new characters!

Comment by: idfgjhhjh @ 03:04 pm July 01, 2013
udjfmgjkgd!!!! so excited for book two


Comment by: tribeman @ 04:54 pm July 01, 2013

Comment by: ??? @ 06:20 pm July 01, 2013

Comment by: Bodeska @ 06:28 pm July 01, 2013

Comment by: Nightbender @ 06:32 pm July 01, 2013