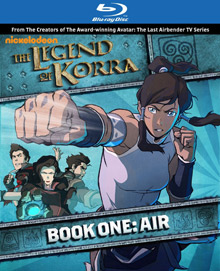 Created by:
Michael Dante DiMartino
Bryan Konietzko
Written by:
Michael Dante DiMartino
Bryan Konietzko
Directed by:
Joaquim Dos Santos
Ki Hyun Ryu
Music by:
Jeremy Zuckerman
Sound Design by:
Benjamin Wynn
Produced by:
Tim Yoon
Television Channel:
Nickelodeon
Running Time:
24 Minutes
Seasons:
Book 1: Air
Book 2: Spirits
The Legend of Korra
Republic City is everything that Avatar Aang and Fire Lord Zuko fought for when they ended the Hundred Year War. With balance restored to the four nations, benders and non-benders can live together in peace, in this thriving metropolitan area. But even the steampunk paradise of Republic City has its problems, as the next Avatar discovers.

When Avatar Korra arrives in Republic City to master her airbending, she comes face to face with criminal bending gangs as well as members of a vocal anti-bending revolution. Before long, Korra's Avatar skills are put to the test when she encounters a group of Chi-blockers led by the charismatic and mysterious Amon, who threatens the city and all the benders in it. Despite the immense danger, Korra vows to fight the growing anti-bending revolution. But will she be able to stop Amon before he rises to power and makes his vision of a bending-free world a reality?
Cast
Janet Varney
as Korra
J.K. Simmons
as Tenzin
David Faustino
as Mako
P.J. Byrne
as Bolin
Seychelle Gabriel
as Asami
Mindy Sterling
as Lin Beifong
Steve Blum
as Amon
Dee Bradley Baker
as Naga, Pabu, Oogi, and Tarrlok
Episodes
| | | |
| --- | --- | --- |
| # | Title | Original Air Date |
| 1 | Welcome to Republic City | April 14, 2012 |
| 2 | A Leaf in the Wind | April 14, 2012 |
| 3 | The Revelation | April 21, 2012 |
| 4 | The Voice in the Night | April 28, 2012 |
| 5 | The Spirit of Competition | May 5, 2012 |
| 6 | And the Winner Is... | May 12, 2012 |
| 7 | The Aftermath | May 19, 2012 |
| 8 | When Extremes Meet | June 2, 2012 |
| 9 | Out of the Past | June 9, 2012 |
| 10 | Turning the Tides | June 16, 2012 |
| 11 | Skeletons in the Closet | June 23, 2012 |
| 12 | End Game | June 23, 2012 |